About Eggs Up Grill:
Eggs Up Grill is home to the whole neighborhood, serving smiles from sun-up through lunch. Since opening in 1997 at the original location in Pawleys Island, South Carolina, Eggs Up Grill has been a place where the local community could catch up with family, friends and neighbors over a breakfast, brunch, and lunch. Eggs Up Grill began franchising in 2008, growing to over 45 locations across the Southeast, making a name for itself as a homestead of hospitality.
Many factors make Eggs Up Grill a neighborhood go-to restaurant. The brand's focus on serving as a friendly locale for the surrounding community means that from the moment guests enter, they're greeted by smiling team members, the sizzle of fresh bacon and the aroma of fluffy blueberry pancakes. The menu features feel-good favorites ranging from hot-from-the-griddle pancakes to signature omelets to piled-high breakfast sandwiches. Additionally, Eggs Up Grill offers to-go, delivery and catering options so that guests can enjoy Eggs Up Grill fare outside of the four walls of the restaurant. In short, the breakfast, brunch and lunch concept has everything to make you smile.
Why Eggs Up Grill?
Now, more than ever, Egg Up Grill is the right brand for franchising in the restaurant segment. Historically Eggs Up Grill has offered strong unit-level economics and a two decade plus track record of success. This record of success, along with its talented leadership team and strong portfolio of franchisees, has proven sustainable even during the incredibly challenging 2020 period. The Brand has quickly pivoted to exploit off-premise revenue and profit opportunities, growing that segment to over 20% of total sales, 4 times what they were pre-pandemic. Work is underway to maintain those sales levels even as the overall industry begins its recovery in 2021, including the evolution of the Brand's new restaurant prototype.
Explicit initiatives to improve restaurant level profitability are paying immediate dividends to Eggs Up Grill's franchisee base and setting the foundation for ongoing margin growth. All of this work is in addition to the industry leading steps the Brand took to help it's franchisees navigate the immediate impacts of the pandemic, from operational standards focused on team member and guest safety to assisting them as they worked through the PPP process.
Eggs Up Grill's unique daypart focus attracts business-minded investors looking to add a brand with a proven model to their portfolios and doesn't require franchisees to have prior restaurant experience. Once they get into the brand, franchisees see firsthand the scalability of the concept, with 50 percent of franchisees having reinvested into the brand over the last few years and many with signed agreements for additional new restaurants.
Eggs Up Grill's inviting atmosphere, product and community feel keeps team members rewarded and happy. The 6am-2pm hours of operation provide an advantage with hiring and retention, often attracting a more family-oriented, responsible team member. Servers and cooks often work with the brand for more than a decade—that's not an accident.
Benefits of Eggs Up Grill Franchising
Proven Business Model with High Returns and a Good Work/Life Balance: Eggs Up Grill boasts strong AUVs ($980,871 for locations four years or older*) and an easily scalable business model. We have a proven track record of success since our founding in 1997. Our family-friendly operating hours "from sunup through lunch" offer a lifestyle flexibility that is uncommon in the restaurant industry.
Highly Experienced Brand Team: brings 80+ years of successful restaurant franchise leadership experience to support franchisees both pre- and post-opening. The team's capabilities manifest in highly effective assistance thru the development process, best in class training programs (new restaurant and ongoing), a robust systemwide supply chain, impactful marketing programs/ tools and ongoing field support.
Franchisee-Focused: There is only one eight hour shift to manage with a team of approximately 25 people. For a full service concept, our menu is simple to learn and execute well and with approximately 2,800 square feet, our physical restaurants are easy to maintain. The Brand team are highly engaged listeners with franchisees participating in key decision making for the business.
Unique Positioning and Experience: Our dishes are carefully crafted, offering flavors and freshness you can see, smell and touch. From the smell of fresh coffee brewing to our classic all-American meals, we offer food, drinks and personalized service that make our guests smile. Our restaurants average a 4.5-star rating across more than 12,000 reviews annually.
Community-Focused Atmosphere: Eggs Up Grill is a fixture in each community, proving to be home to the whole neighborhood, providing guests genuine hospitality. The brand cultivates a one-of-a-kind atmosphere for guests to spend quality time with each other over a great-tasting meal.

*These numbers pertain only to the group of restaurants that have operated for at least 4 years and are not necessarily representative of the entire system. The data used to calculate these results was taken from franchisees' financial statements, was provided by our predecessor, and is unaudited and unverified. Consult our franchise disclosure document for more detailed information.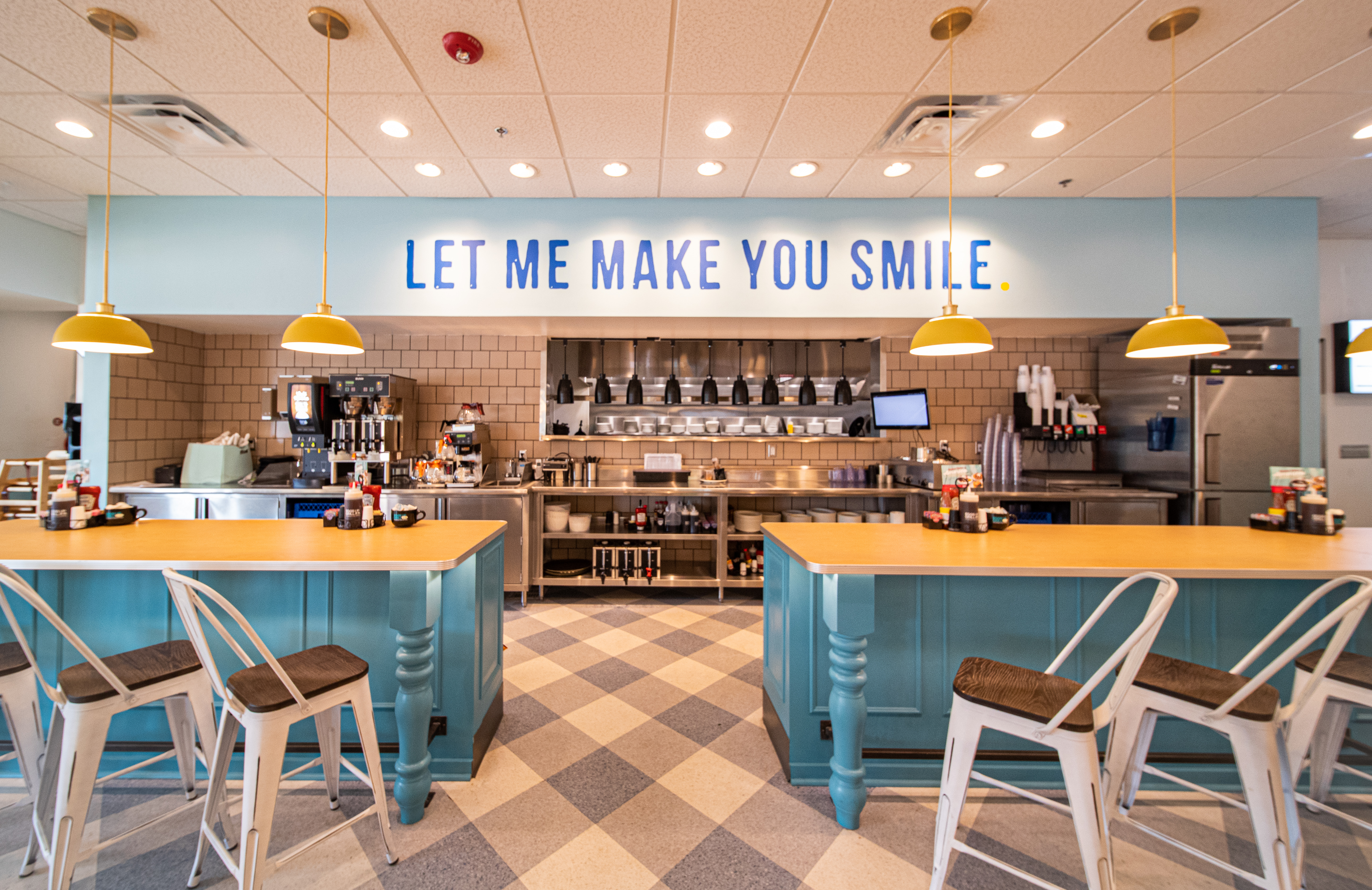 Determined Leadership
With an experienced team led by former TGI Friday's President Ricky Richardson, the brand is on track to have 100 locations by mid-2022. Executive leadership has extensive restaurant and franchise industry experience with high-growth, high-performing national concepts.
Our brand has deep functional expertise to support rapid growth and are passionate about the brand and what we stand for. There is a commitment to helping franchisees be successful.
In 2018, private investment firm WJ Partners acquired Eggs Up Grill, building the team and priming the brand for its rapid expansion in more communities across the US. WJ Partners and its family of investors has decades of success growing franchise business such as Pure Barre, Blockbuster and Extended Stay America.
We're now opening dozens of our fresh new store look, and have made striking investments in technology, infrastructure, development and marketing to ensure long term success.
World-Class Support
From a support standpoint, Eggs Up Grill works one-on-one with franchisees from the first point of inquiry to the restaurant's opening—and throughout the life of the franchise. The brand team has a strong support program that encompasses franchisee and team member training, food safety controls, operational best practices, local and brand marketing, financial performance tools and much more. All of this is coordinated day to day through experienced, field-based Franchise Business Consultants and supported through the brand's seasoned leadership team. Additionally, Eggs Up Grill has developed a robust service provider network across development, marketing and technology to improve franchisees' results.
Growing Market Share:
The breakfast category is enjoying significant growth. Differentiators including robust revenue, lower-than-industry-average food costs, a community-nourishing mindset and impressive team member retention help make Eggs Up Grill a compelling franchise opportunity.
Eggs Up Grill offers a great tasting, all-American menu and personal connections with guests through warm, friendly service. From the simplicity of the menu, streamlined operations, to our defined guest positioning as the true neighborhood gathering place, the brand is experiencing rapid growth.
Since Eggs Up Grill restaurants are only open until 2 p.m., there are comparatively lower operational costs when stacked up against other full-service restaurant concepts. The hours of operation also offer an appealing work-life balance, an attractive lifestyle for both owners and team members.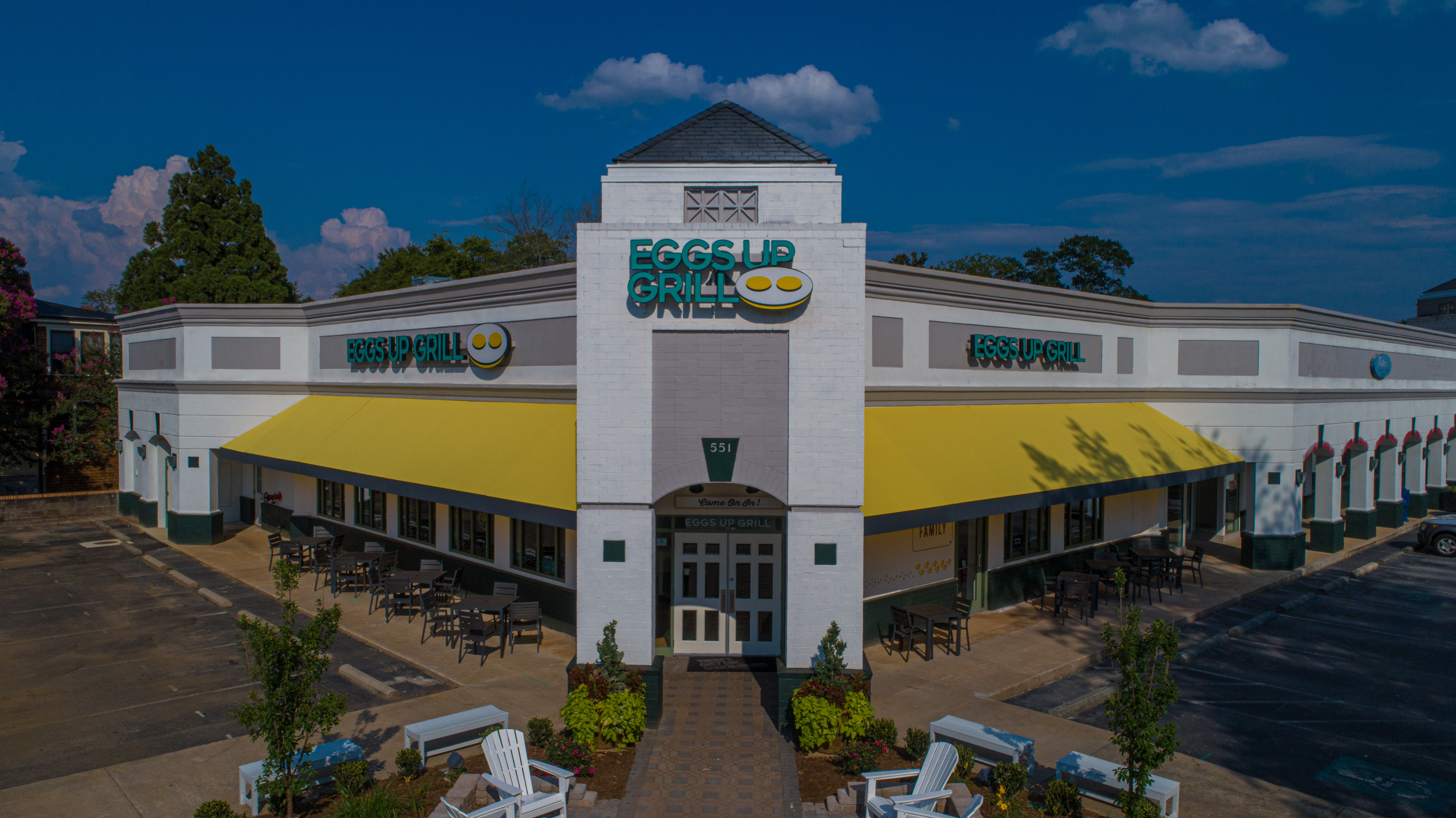 Real Estate and Construction
Eggs Up Grill partners with The Retail Strategy (TRS) as a brand development resource. TRS handles market evaluation support and provides location selection guidance. We target high-growth suburbs and "hometowns" throughout the southeast United States that feature a minimum three-mile population density of 15,000 or greater.
The ideal size range for an Eggs Up Grill Franchise is generally between 2500 to 3200 square feet. We prefer space in neighborhood strip centers or grocery-anchored retail centers, as those provide strong visibility and a local draw. Ideally, an Eggs Up Grill will be located at a well-known intersection with strong combined traffic counts and close proximity to neighborhoods, schools and community centers.
Training and Support
The only company-owned restaurant out of the brand's 45-plus locations is also home to the brand's Training Center and Innovation Lab. The restaurant features a meeting room and training kitchen, providing franchisees with the space they need to get hands-on experience with the brand prior to opening and operating their own restaurants. The training programs instill the importance of the community connections, the warm, friendly and attentive service and our goal to always make guests always feel right at home.
Vice President of Operations Jeff McCabe built a seasoned team to lead training efforts for kitchen operations, food safety controls, operational best practices, local and brand marketing, financial performance tools and much more. The one-on-one support for franchisees continues through to the restaurant's opening—and beyond.
Marketing and Technology
Eggs Up Grill creates a magnetic appeal to guests, driving loyal traffic by being a community mainstay. Not only do our restaurants provide great-tasting food an friendly, personable service, but the team also forges connections beyond the restaurant and into the life of the neighborhood.
Local Store Marketing support is built to elevate social and community activities through partnerships with local organizations, sports teams, schools, churches and more. There are programs built to support in-store and community events and fundraisers.
Brand-wide promotions are built to drive in more guests and increase check average with craveable and unique limited time menu items while staying true to Eggs Up Grill's position of making guests smile with All-American, approachable meals. A focus is centered on ease of operations and limiting the amount of new items for the kitchen.
Marketing programs are constantly optimizing ways to build revenue outside the four walls of the restaurant with enhanced online ordering, takeout, catering and delivery.
Our Ideal Franchisee
Our mission is to partner with strong franchisees who always offer Eggs Up Grill guests warm, friendly service, along with fresh, made-to-order food at a reasonable price point, all in a neighborhood setting.
The ideal franchisee for an Eggs Up Grill is very engaged and hands-on in their business and in their local community. Eggs Up Grill franchise owners are hospitality-minded and guest-centered, high energy and forward-thinking, with a passion for results and an eagerness to drive growth.
Half of our franchisees had no prior restaurant experience. Successful ownership models include owner-operator or engaged multi-unit owner. We are also seeking existing franchisees who are interested in expanding their portfolios.
Home to the Whole Neighborhood
The connections that exist between the franchisees, operators, team members and their guests are authentic. Eggs Up Grill franchisees often partner with local charities, community organizations, churches, schools and sports teams for fundraising and support.
Next Steps
Next, complete the request for consideration at www.eggsupgrillfranchise.com so we can start the process!