ALOHA!
And welcome to Maui Wowi, where our Ohana (Franchise Owners) are treating their rapidly-growing customer base to a vacation in a cup, every day of the year. With 450 locations across 7 countries, customers around the world can count on Maui Wowi's commitment to offering only the highest quality products, brewing the finest Hawaiian coffees and serving freshly blended smoothies made from only all-natural ingredients.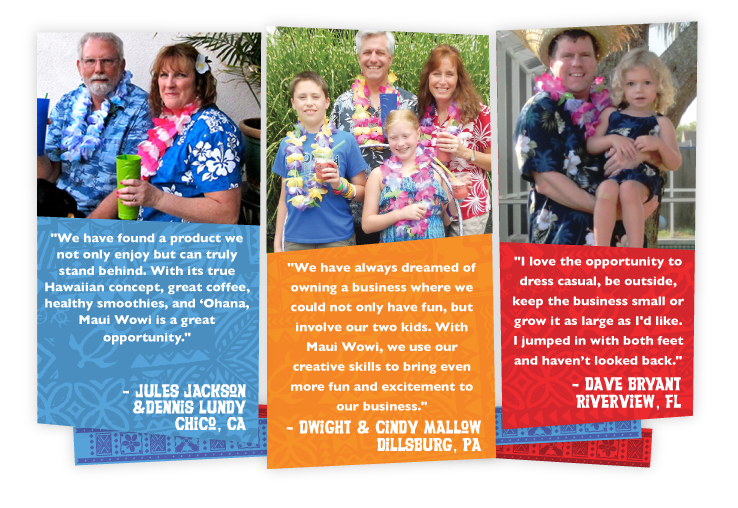 DO YOU VALUE FAMILY?
Our Franchise Family known as The Ohana, is the single most important factor in the growth and continued success of Maui Wowi. The Ohana is a community of entrepreneurs who are committed to achieving success through collaboration and camaraderie. They yearn to be on a winning team, to have others to enjoy it with, and others to help you get there!

DO YOU WANT TO HAVE MORE FUN?
Our Franchise Owners are proof that you don't need a shirt, tie, wingtips, and stern look on your face to be successful in business. We smile a lot. We high-five. We laugh with our customers. We walked away from board-rooms and cubicles and walked into professional sports stadiums and amusement parks. We have away the corporate attire for a Hawaiian shirt, and now, we walk our entrepreneurial path wearing flip-flops.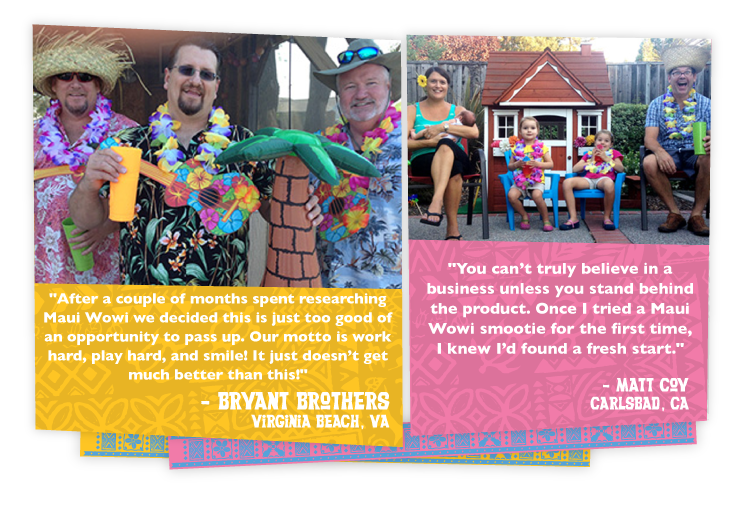 THE MAUI WOWI BUSINESS MODEL IS:
Flexible: As your own boss, you decide when, where and how often you work!
Simple: Smoothies and coffe, without the fuss. We've got your back.
Unique: One-of-a-kind Hawaiian culture, offering the worlds best smoothies and coffee. We are the only company to offer customers a vacation in a cup!
Scalable: With a modest investment (around $70,000), our Owners can quickly open multiple locations in places like professional sports stadiums, arenas, convention centers and amusement parks.
DO YOU FIT?
We don't just let anyone join our Ohana. Fill out the form to find out if you fit!