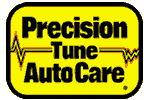 Who is Precision Tune Auto Care?
Founded in 1976 and franchising since 1977, we are one of America's largest car care companies. We have over 260 centers operating in the U.S. and another 80 centers located internationally including: Nigeria, Oman, Portugal, the Republic of Georgia, Spain and Taiwan. Further, we have initiated an aggressive growth plan to open more centers internationally in Armenia, Azerbaijan, Bahrain, Kuwait, Saudi Arabia and the United Arab Emirates and domestically in California, Kansas, Maryland and North Carolina.

The Market
The typical Precision Tune Auto Care customer is middle class families who are dependent on their vehicle for transportation. With the complexity of today's vehicles the "do-it-yourselfers" find they "cannot do it". While they may have the necessary tools to change their oil, and maybe change their spark plugs, they don't have the resources to diagnose and repair today's technologically advanced engines.

Although each market is unique, the Precision business model has proven successful in a variety of very different environments, with minor modifi cations, made as necessary.
Our Services
Precision Tune Auto Care was founded on the basic engine tune-up. Over the years, we have diversified our mix of services to provide total quality car-care opportunities for our franchisees to grow and expand their customer base.
Today we offer a wide variety of specialized and scheduled car-care services. These services include:
Brakes & Traction Control

Cooling System

Diagnostic Discovery Services

Emission Controls

Engine & Power-train Management

Relays & Modules

Exhaust Systems

Factory Scheduled Maintenance Services

Heating & Air Conditioning

Instrument Panel, Gauges & Warning Lights

Lighting & Horns

Oil Changes

Starting & Charging

State Inspections

Steering & Suspension

Tire Sales & Service

Transmission & Drivetrain

Windows & Glass




Wiper & Washer Systems
The Competition
In the 1970's and early 1980's, our primary competition came from full-service gas stations. Today, our primary competition comes from the dealership. The dealerships are focusing more on after sale service as a revenue generator. The problem with the dealers' strategy is that today's automobile owners are not happy with the dealerships. High cost, inconvenience and the quality of the work are most often cited as the reasons why. Tire dealers and maintenance garages form the next level of competition.
Precision Tune Auto Care can and does compete very eff ectively against the above mentioned competition. We are more convenient: an average car is in our shop approximately an hour and a half and most of the centers take appointments. We beat the dealerships' price, job for job, and warranty our work for 12 months or 12,000 miles.
Our Support System
Precision Tune Auto Care is a business format franchise. Our business concept has not only been invented, it has been successfully working since 1976 and internationally since1991. We continue to develop and refine the systems and procedures that when properly implemented can lead to businesses with excellent sales potential. Our support systems encompass the necessary disciplines for Franchisees to develop and grow our brand within their area and include but are not limited to: site selection, marketing, advertising, technical and management training, operations, parts acquisition and much more.

Site Selection
Franchisees lease or purchase their own location.

Training at Precision University
Precision Tune Auto Care off ers one of the most advanced training programs in the industry. We will teach you how to create and implement the needed infra-structure to support and profi tably operate a PTAC Center during the Franchise Management Course. We will cover all aspects of the business including: financial management, salesmanship, business management, marketing & advertising, labor and purchasing as well as an overview of our services. In addition to the Franchise Management Course, Precision University offers the following Management Courses: Service Writer Training; Financial Modeling & Templating; and Softwrench Training.
Our engine performance and automotive maintenance training program for technicians spans eight weeks and entails 40% classroom and 60% hands-on training. While it is an extensive course, when your technicians have successfully completed the course, they will be highly qualifi ed. These Technical Classes include: Engine Performance; Automotive Electronics, Emissions and On-Board Diagnostics; Brakes; Air Conditioning Service & Repair; Preventative Maintenance; Domestic and Asian Fuel Injection.
Details of Ongoing Support:
You're never on your own when you partner with Precision Tune Auto Care. New partners work closely with a team of experienced professionals. Most of the U.S. is supported by our Area Developer Network (Area Developers) providing local guidance and support with marketing, operations, sales management and training - starting on day one. Areas that do not have an Area Developer are supported by the corporate team.
Partners can stay plugged into success by accessing our dynamic private Intranet site, MYPTZONE, which provides immediate access to advertising artwork, operations bulletins, technical updates and training materials. It also features our company and marketing news, as well as forums where Precision Tune Auto Care partners can discuss key business issues or concerns with fellow franchisees as well as the Area Developers and Corporate management team.
Vendor Relationships
As a global player, we have preferred customer status with many nationally recognized vendors. As a Precision Tune Auto Care partner, you will enjoy discounted rates on parts, equipment, advertising, and technology. Our in-house printing division, Precision Printing, is an exclusive resource for each partner needing branded promotional materials off ered at a great value to you.

Advertising Support
Our multi-faceted marketing program provides all the planning tools, materials and professional guidance necessary to get you started and keep you going. The advertising fees collected are used to provide professionally produced broadcast (television and radio), and in-store promotional materials to help establish a strong, positive brand image in your community. We're with you from the start with a Grand Opening Kit to future phases as your center matures, including powerful retention tools.
Profile of a Successful Franchisee
An understanding of business management principles (such as how to complete and review a

P&L statement) is a must.

Involvement as an owner-operator in the management of the shop gives Precision Tune Auto

Care a competitive edge.

A retail/customer-focused grounded in ethics will assist you in motivating your team to deliver

a positive customer experience. It's all about respect.

A successful franchisee also possesses proven management skills, leadership ability, vision

and an appetite for growth.