OUR SIMPLE
PROCESS
Retro Fitness was at the forefront of the high value/low price (HVLP) movement and remains an industry leader today, which is why our process can be completed as quickly as your schedule will allow.

Once the agreement is executed, our team of seasoned experts can help you find an ideal location, negotiate the lease, build and equip the center, then hand you the keys.

ONE OF A KIND
EXPERIENCE
Retro Fitness gyms provide a unique combination of an affordable, $19.99 per month membership with state-of-the-art fitness facilities that feature 35-65 pieces of cardio equipment with personal LCD television screens, three different types of circuit training equipment, Retro Blends Smoothie Bar, child sitting, tanning, hydromassage recovery lounges and pro shop. Add in personal and multiple group training options and Retro Fitness is way more than just your average gym, offering a one-stop shop fitting any fitness enthusiast's budget.

THE GYM CONCEPT
WITH MONETARY MUSCLE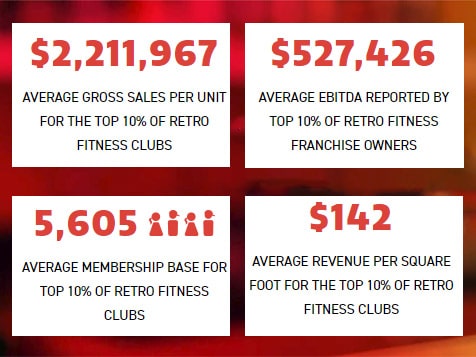 *The top 10% of Retro Fitness Clubs Avg. Gross Sales, Avg. EBITDA and Avg. Rev. Per Sq. Ft. numbers as published in Item 19 of the Retro Fitness 2019 Franchise Disclosure Document. Read Item 19 in its entirety for important defined terms, assumptions and qualifiers relating to these figures. Franchise offering made by prospectus only, view our Franchise Disclosure Document for details.
Dedicated Support
Comprehensive assistance in site selection
Prototypical design and conceptual layout
Virtual and in-person training for franchisees and key managers
Initial management training and ongoing business consultation
Pre-sale support on how to best recruit and acquire members prior to grand opening
Access to corporate management team for business review and performance analysis
Regular consultation visits
Dedicated marketing staff ready to assist with marketing and social media planning
Vendor partnerships and negotiated pricing assistance with major brands like Life Fitness®