Extensive Support System · Scalable Growth · Innovative Technology
Sylvan Learning is the most recognized brand in supplemental and enrichment education, and the nation's largest provider of STEM education. With more than 750 locations and over 39 years of stellar results from our students and our franchisees, our franchise system has emerged as a leader in the education industry. With a proven track record of success and the right tools in place, Sylvan is a strong and long-term opportunity in a booming segment.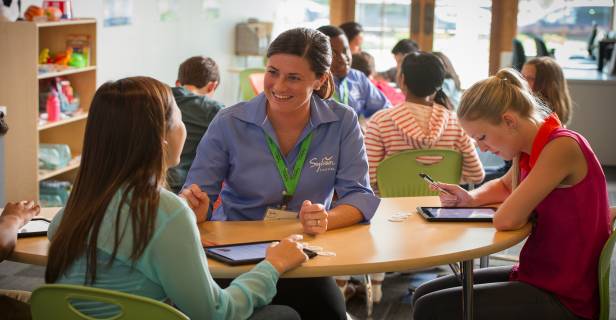 At Sylvan, We Believe...
Education Is Everything: A child's future depends on a solid education and a love of learning. We teach our students how to learn, so they build confidence and develop the skills needed to achieve success in school and beyond.
Learning Should Be Personal: No two students are exactly alike. They learn in different ways and at different paces. That's why we develop personal learning plans that are unique to each student.
Great Teachers Inspire: Our teachers don't just teach. They help turn frustration into confidence, B's into A's, and strugglers into achievers. They inspire one student at a time.
Technology Accelerates Learning: Technology doesn't teach students, teachers do. We blend great teaching with great technology to get the best out of every student.
Results Matter: We're committed to inspiring every Sylvan student to advance in our programs. Thirty-nine years of great results, millions of successful students and counting.
Why is Now the Right Time to Invest?
Sylvan's approach to education offers programs for students of all ages and levels. With school budget cuts, lower test scores, and increased competition to get into a great college, many students and their parents are looking for ways to gain an edge and improve their performance. Alternatively, students that want to accelerate their education are able to take courses in engineering, coding, robotics, and more.
Sylvan Learning gives them that edge. Our students typically see two to three times more growth in their math and reading scores. A Sylvan Learning franchise allows you to take advantage of this ever-growing industry with a system that has consistently produced results for 39+ years.
Proven Business Model
It's no accident Sylvan has been an education industry leader for over 39 years. We have a retail formula that works, innovative technology, a proven approach to personal learning, high-demand programs, and a franchise community that's passionate about changing lives!
Integrating Technology into Personal Learning
Sylvan is providing the most advanced and innovative approach to education in the industry. By expanding to enrichment courses through our STEM based product line, and assisting students from ages 4.5 up through college, we've been leading the way in personalized instruction for almost four decades.
Our sizable program mix and modular curriculum allow franchisees to deliver services through parent pay and institutional contract opportunities, while also providing them with the option for multi-revenue streams providing higher revenue potential.
What makes a successful Sylvan Learning Franchisee?
You don't have to have a background in education to be a successful Sylvan Learning franchisee. We are looking for candidates with an entrepreneurial drive and experience in sales, marketing, management, or technology. We want you to combine that experience and drive with a passion to make a difference in the lives of students and at your franchise.
TO FIND OUT MORE ABOUT SYLVAN LEARNING FRANCHISING, PLEASE REQUEST MORE INFORMATION !